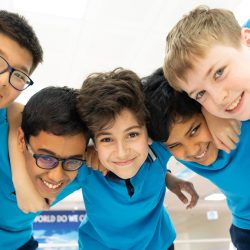 Lower Secondary Enrollment Procedure
Lower Secondary incorporates the first 3 years of secondary school. Our curriculum follows the English National Curriculum by providing a broad, balanced, education which is enhanced by the Cambridge Secondary 1 programme in English, Maths and Science.
2) Application Form
Write the Application Form. Once you finish the Application form, Admission officer will contact you within 24 hours
3) School Visits
Set up a tour with the admission officer. You will receive basic school information and be able to see the school facilities. The date of the entrance exam is set.
4) Admission Exam and an Interview
Admission Exam for Primary school:
Assessment Testing in English and Mathematics
Interview with Secondary School psychologist
Test results are communicated within 3 working days
5) Enrollment Completition
Enrollment is completed after receiving the countersigned school contract and confirmation of the enrollment fee payment