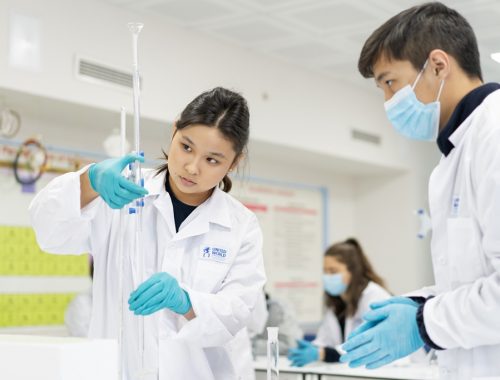 Lower Secondary
Lower Secondary incorporates the first 3 years of secondary school. Our curriculum follows the English National Curriculum by providing a broad, balanced, education which is enhanced by the Cambridge Secondary 1 programme in English, Maths and Science. Students will build on and consolidate the skills and knowledge which they have learnt in the Primary School. This will prepare them for the demands of the examination courses they follow in IGCSE and AS & A Levels.
The Lower Secondary programme of study aims to develop the key skills to enable our students to embrace lifelong learning required for our ever-changing globalised world.
The aims of the Lower Secondary are:
• To allow students to develop further as independent, inquisitive, creative, critical thinkers and learners;
• To allow students to develop as individual personalities whilst maintaining a consideration and compassion for others;
• To act as a transition phase between the primary education and the progress to courses leading to external examinations
(IGCSEs and A Level).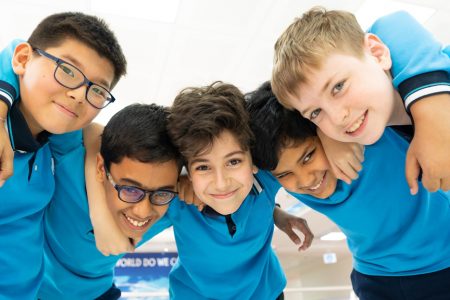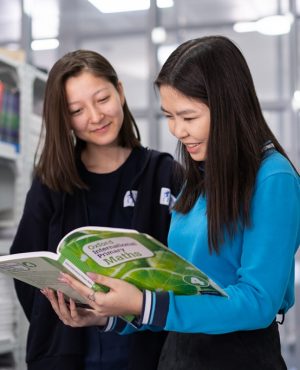 The academic programme that we offer in Grades 9 & 10 builds upon the skills that have been developed at the Lower Secondary. All students are required to study a two-year programme leading to the International General Certificate of Secondary Education. The curriculum includes 7 core subjects.
IGCSE programme encourages students to:
•Develop oral and practical skills;
•Develop an investigative approach;
•Use initiative to solve problems;
•Apply skills, knowledge and understanding;
•Think critically about information;
•Become more effective as independent learners;
•Actively demonstrate all aspects of the school learner profile.
IGCSE subjects
Science  – ENGLISH, MATHS, PHYSICS, CHEMISTRY, BIOLOGY, GEOGRAPHY, ICT or GLOBAL PERSPECTIVES
Social science – ENGLISH, MATHS, COMBINED SCIENCE, ECONOMICS, BUSINESS, GEOGRAPHY, ICT or GLOBAL PERSPECTIVES
*Global Perspectives – Cambridge IGCSE Global Perspectives is a groundbreaking and stimulating course that stretches across traditional subject boundaries and develops transferable skills. It is both cross-curricular and skills-based and taps into the way learners of today enjoy learning, including team work, presentations, projects, and working with other learners around the world. The emphasis is on developing the ability to think critically about a range of global issues where there is always more than one point of view.
AS & A levels
In grades 11 and 12, students are prepared for university study by following Cambridge International A Levels. Students can choose their academic streams of study in the last years of school. There are three different spheres offered in our school: Engineering, Medicine and Business.
AS & A Levels subjects
• Engineering – English, Maths, Physics, Chemistry, Computer Science
• Medicine – English, Maths, Physics, Chemistry, Biology
• Business – English, Maths, Business, Economics, Geography